Family game night used to be our family's standard Friday night "thing". Then the kids got old enough to watch movies that both my husband and I enjoyed, so now the two activities vie for that time slot.
It still remains the "go to" activity when we have a group of folks over, however. And, come New Year's Eve, we love to pull out our stash. It's an annual tradition to spend the night with some long-time special friends of ours and go through game after game. A few of the ones below are some of our favorites.
Whether you're playing with a big group of friends, your immediate family, or doing it during "date time" with the kiddos or your hubby, games are an enjoyable, low-stress way to start some good conversations and build relationships. They also help to develop those oft-mentioned 'social skills' that non-homeschoolers caution us about, too, as described in this article in the Bright Ideas Press blog.
And they make great gifts. So here are some suggestions to get you started!
My family game night favs…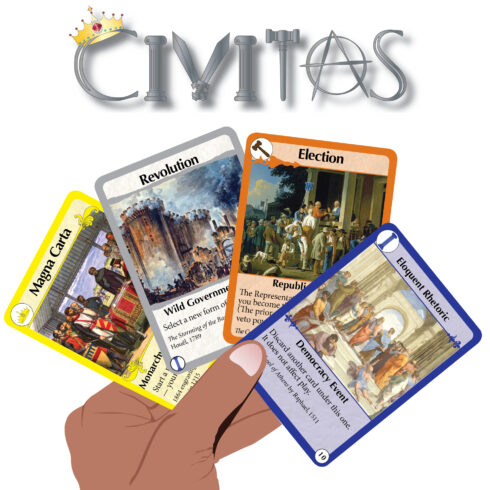 Civitas is a card game about different forms of government. Pass laws, solidify your leadership, and rule the table in this smart, fast-paced game.

Piece O'Cake
Magic Labyrinth – 3d game for adults and kids; different levels available
Love Letter Boxed Edition – 16 cards and hours of fun!
iMAgiNiff Game
Balderdash The Hilarious Bluffing Game
Ticket To Ride
Catan: Family Edition Board Game
Sequence Game
5 Second Rule – Just Spit it Out!
10 Days in Africa Game
Brain Quest Smart Game
Don't forget family game night yummies
Of course, part of the fun of game (or movie!) night is the snacks that we all enjoy together! Normally I'm not a fan of keeping empty calories around the house, primarily because they end up in MY tummy, but I'm eager to please the fam when I know we'll be having some fun together 🙂
So the question is: sweet, sour, or salty? You can take a quick trip to the dollar store to have everyone choose their munchy-of-choice (or, better yet, surprise them!), but nothing beats the aroma of popcorn to turn a "regular" family night into something special.
Have fun, y'all!
&
Do you have any family favorites (either games or snacks)? I'd love to hear some of them and perhaps we may both discover a new family favorite. Contact me and I'd love to add it to the ones here.